Gosh it's been quite a while since I've posted anything on here, so I guess I should start again.
I decided to try my hand at making pizza the other day. After much searching online and perusing dozens of recipes I decided on one from Food Network's Alton Brown.
16 ounces all-purpose flour, plus extra for peel and rolling
1 envelope instant or rapid rise yeast
1 tablespoon kosher salt
10 ounces warm water, approximately 105 degrees F
2 tablespoons olive oil, plus 2 teaspoons for bowl
1 tablespoon malted barley syrup
All pretty standard stuff, except the malted barley. I had to go to a natural food store to get it, and it was pretty expensive. Next time I'm going to the home-brew supply store, it's much cheaper there, and many different options for it. Anyway, I didn't have instant yeast so I just used regular active dry yeast. I think I need to get some new yeast though, since it never did rise very much. The yeast is almost a year beyond it's expiration date, so probably time to pitch it and get new stuff anyway.
The next stumble was I couldn't find the dough hook for my mixer and ended up kneading it by hand. That was a ton of work. Took me almost 45 minutes of kneading to get the "baker's window" to form in the dough. Guess my kneading technique is pretty rusty and I should do it more often!
Once it was kneaded, I let it rise in the over with just the light on for about an hour. As I said I don't think the yeast was very healthy since it hadn't quite doubled in that time. At that point, I punched down the dough and rolled it into three balls and put it in the fridge overnight.
Now we get to the fun part. Are you ready for some pictures? I finally have some! Here is the dough just out of the fridge, warming up while I get everything else ready.
The pizza was a bbq pulled pork pizza, with some left over pulled pork, bacon, sauteed onions, pineapple and pepperoncini. Mmmm. Drooling already.
I took about four strips of bacon and cut them into small pieces and fried them until just a little crispy.
I also cut up about half of a red onion into thin slices and fried them in the bacon grease until just translucent.
Up next was rolling out the dough. I think I should have let the dough sit out a little more and relax, because it was still a little "springy" when I tried to roll it out. I used a combination of rolling out with a pin and hand-tossing. This was the first time I've ever tried to hand toss a pizza and I sure wasn't very good at it, but at least none of it ended up on the kitchen floor, and I didn't tear it. I was aiming for about 1/4" thick, but it didn't quite get there. It wasn't very even either. Some of the first one was almost paper thin,
while towards the edges it was more like 3/8" thick. Oh well, it's a learning experience right? Here's the first one after rolling, I haven't yet tried tossing it. Now it's time for the toppings.
I started with a little bit of barbecue sauce. I just used store-bought bottled stuff, since I didn't have any of mine handy. I think it was Sweet Baby Ray's original. In hind sight, I was a little light on the sauce and it could have used more. Not a whole lot more, but probably half again as much as I did. In the finished pizza you couldn't really taste the BBQ sauce at all. On top of the BBQ sa
uce I put fair amount of left-over pulled pork and the sauteed
onions. Then it got a light sprinkling of shredded "Italian" cheese. I can't remember exactly what the blend was, but most likely Mozzarella and Provolone, maybe something else in there. It was a store bought pre-shredded pack. On top of that went the bacon and pineapple pieces and the pepperoncini slices and it all got covered with a little more cheese. Time to get the oven up to speed and bake these babys!
For our recent wedding my wife and I were given a pampered chef pizza stone, so this was a great time to try it out. It went onto the bottom rack in the cold oven, and the oven was set to 550. Took it about half an hour to get up to temp, but that's ok, I was busy making the pizzas while this was happening. Once everything was ready it was time to get the pizzas into the oven. The recipe said to use a pizza peel or the back of a cookie sheet. Well not having a peel I went the cookie sheet route. Next time I'm definitely getting a peel. Despite heavily flouring the back of the cookie sheet, it was almost impossible to get the pizza off and onto the stone. I eventually got it done and only lost one big piece of pork. Oh well. 7 minutes at 550 proved to be just right. Again not having a peel, taking the pizza out consisted of using a spatula to lift up a corner and sliding a plate underneath it while sort of shuffling it onto the plate with the spatula.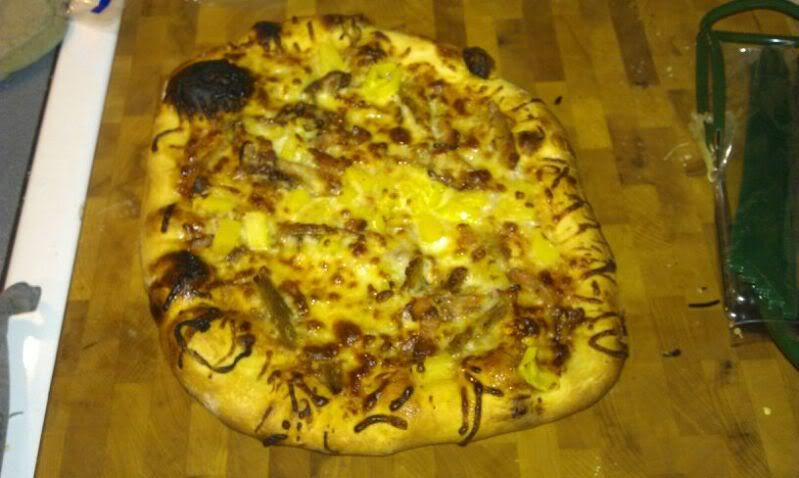 Not the easiest, but it worked. A peel is in my near future though.
In all the pizzas were excellent, with a nice crisp, yet chewy crust. The only thing lacking was the BBQ sauce flavor. These are definitely on the list to make again.