The other day I was perusing one of my favorite blogs,
Cowgirl's Country Life
and I saw a recipe for Bacon Brittle. While I had some left over bacon from my Halloween party this weekend, so I decided to give it a try.
Her recipe is...
1 cup brown sugar
1/2 cup light corn syrup
1/2 cup water
1 tablespoon unsalted butter
2 teaspoons vanilla extract
1 teaspoon baking soda
1/2-3/4 tsp. salt
3/4 cup chopped pecans
1 cup cooked bacon bits (about 12 ounces uncooked bacon)
I didn't have any pecans, but I did have some smoked almonds that I made a while ago. They were a little over smoked, and on the verge of being burnt. Not really so good for eating, but I kept them around for just an occasion like this. I figured they'd go good in this.
The first step is to add the water, sugar and corn syrup in a medium pot and stir over medium heat until the sugar is dissolved and the mixture boils. Then add a candy thermometer and heat over high heat without stirring until it reaches 290 degrees. I think my thermometer must be on the fritz or my technique sucks, because by the time it hit about 260 degrees the mixture was a sticky gooey, lava-like blob and was starting to burn. So I decided to pull it off the heat and continue with the rest of the recipe.
Remove the pan from the heat and quickly stir in the rest of the ingredients. When it stops foaming, pour it into a well greased cookie sheet, and spread it thin with a silicone or grease spatula. Cool for at least 10 minutes and then break into pieces.
Here's what mine looked like finished.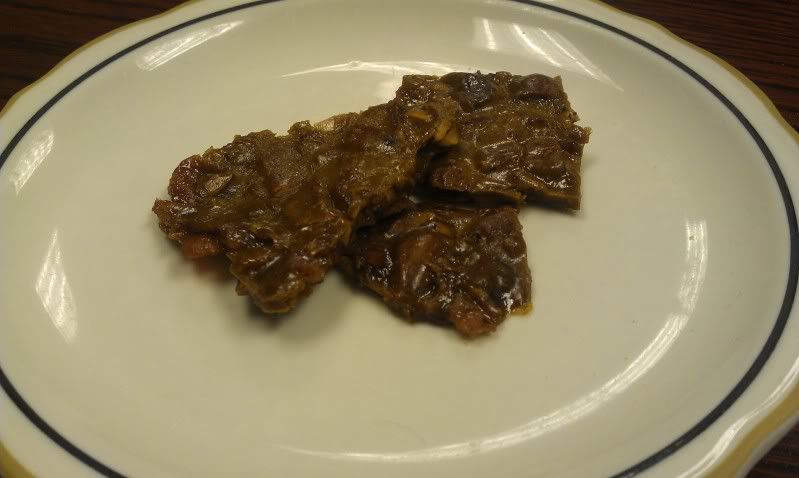 (click to zoom)
It was pretty dark in color, and it was that way right from the beginning. I think it's because I used dark brown sugar. Next time I'll try it with light brown sugar, or even just regular sugar. Also, next time I'm going to cook the bacon just a little bit more. There are pieces in there that are not quite crispy and it takes away from the "brittle" experience.
Overall, it's very good, and I'll definitely make it again.